Tired of exhausting and ineffective diets?

Lost weight
but your body is
still far from perfect?

Reached plateau and lost hope?
Why?
83% of people trying to lose weight make the same mistake -
they starve themselves by cutting food intake.



I was no exception! But then I realized that losing 110 lbs requires a complex approach. Voila! Say goodbye to being overweight! Do you see the difference? 231 lbs. 121 lbs.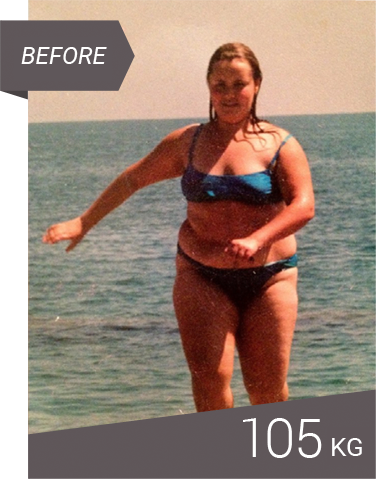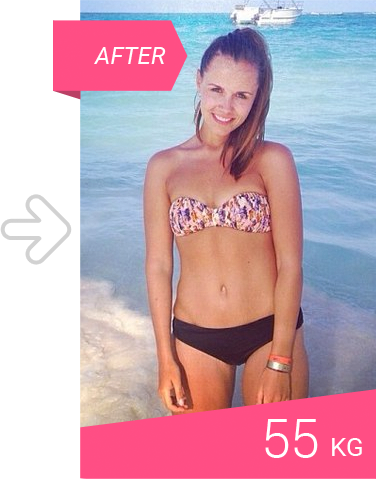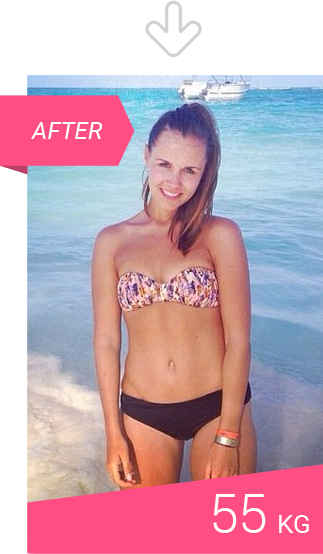 Many people saw the difference and believed in me, so I started helping people to lose weight and change their lives.
Later, I decided to become a certified trainer and nutritionist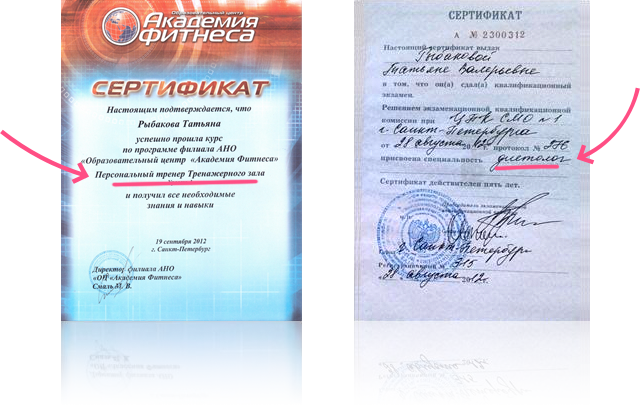 If you want to lose weight safely and gradually,
12-week plan is what you need!
Whether you're 14 or 60, it's safe for any age. By the way, this course is suitable for men as well. It targets problem areas and provides healthy weight loss.
WHY 12-WEEK PLAN ISN' T JUST ANOTHER DIET
The difference between 12-week plan and any other diet is that it's customizable! Whether you want to drop 20 or 50 pounds, it's totally up to you!
This plan consists of


Tips on healthy weight loss
+
Diet plan
+
Simple 10-minute workouts
As a bonus, you get

makeup course
for slimmer face
special
vegetarian menu
Remember
that access to the plan is unlimited – feel free to get back to it at any time!
WHAT IS SUBSCRIPTION PLAN?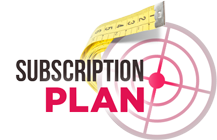 During 12 weeks, you'll be receiving daily tips and instructions on weight loss and healthy eating that will motivate you and help you stay on track. In other words, it's a kick in the butt we all need during weight loss.
While 12-week plan helps you to lose weight, subscription plan is focused on getting not just a slim body, but also a fit one!
Subscription guarantees great results as it includes

Daily dose of helpful motivation.

Intense home workouts for a strong and fit body.
Compare the results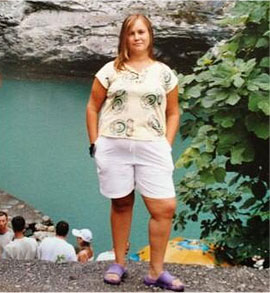 Overweight – 220 lbs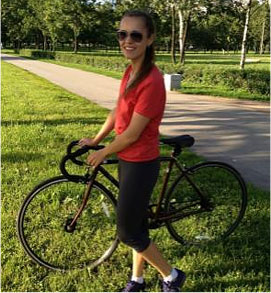 Slim – 110 lbs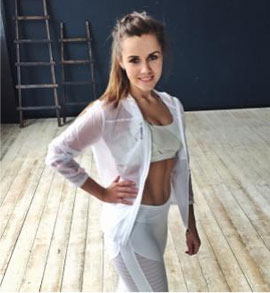 Fit – 121 lbs
(+ 11 lbs of muscle)
Overweight – 220 lbs

Slim – 110 lbs

Fit – 121 lbs
(+ 11 lbs of muscle)
While 12-week plan is a very effective way to lose weight, subscription plan is what will make you look fit and sporty! Sure, subscription plan requires more effort, but I promise to support you every step of the way!
Remember that you get a week-by-week access to the plan – the 1st week is free, then you can renew it at any time.
SUMMARY
| | | |
| --- | --- | --- |
| | 12-week plan | Subscription plan |
| Result | slim body | fit and sporty body |
| Objective | provides gradual and healthy weight loss | allows to achieve better results when combined with a 12-week plan |
| Access | unlimited | week-by-week |
| Payment | one-time | weekly |
AFTER THE PAYMENT, YOU'LL RECEIVE:
12-week plan consisting of 10 informative chapters on weight loss – unique and effective tips that helped me to lose 110 lbs.
Free 1st week of subscription plan including daily dose of helpful motivation, daily tasks, intense workouts and valuable moral support.
Interactive diary of success for extra inspiration.
Motivational diary allowing to control weight loss and track progress.
Bonuses

style course
special vegetarian menu
Q & A
Is it hard to complete 12-week plan?
No, especially with a subscription plan as it gives you that extra kick. Many people lost weight thanks to 12-week plan. Trust me, you can do it too!
Are mentioned products easy to find?
Yes, all products can be found in regular supermarkets.
I want a fit body. Is it possible to get subscription without getting 12-week plan?
No, because both plans are interrelated. Even if you follow subscription plan and do intense workouts, your fit and sporty body will be hidden under fat. While 12-week plan is a foundation for successful weight loss, subscription plan is additional yet very effective option.
Is it possible to lose weight with 12-week plan only?
Sure, if you're self-motivated and highly organized. But if you're lacking willpower, I recommend incorporating subscription plan.
Why the 1st week of subscription plan is free?
It's complimentary so that you can see if completing daily tasks works for you – that way you'll be able to decide if you want to incorporate subscription plan or stick with 12-week plan.
REVIEWS: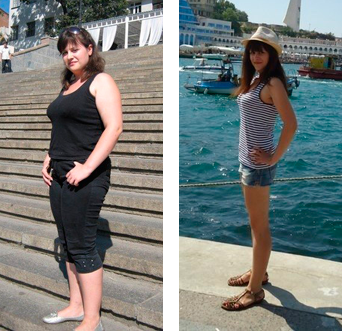 -77 lbs
Elena

Hi, Tanya. Thanks to you and your videos, I lost 77 lbs – you totally changed my life!

-88 lbs
Oksana
Hi, Tanya. I want to send you a picture – I already lost 88 lbs, 44 lbs to go. Also, I want to thank you for your help and support. You're amazing! I wish you all the best, and once I finally get fit, I'll send you another picture of me!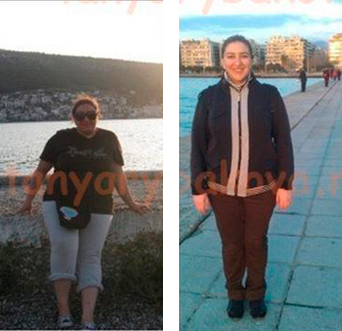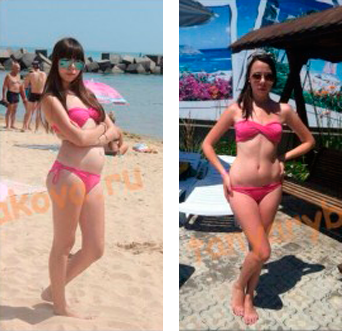 -15 lbs
Yana

Thank you, Tanya! Thanks to you, my body looks a lot better now! Here's what I achieved so far. I'm still working on it!

BUY 12-WEEK PLAN AND
GET FREE

1st WEEK OF SUBSCRIPTION PLAN
12-week plan v 2.0.
GOLD
RESULT – FIT AND SPORTY BODY
10 informative chapters on weight loss – unique and effective tips that helped me to lose 110 lbs
Diet plan
Interactive diary of success for extra inspiration
Motivational diary allowing to control weight loss and track progress
Book "100 recipes". Proper nutrition for every day
84-day subscription plan with daily including daily dose of helpful motivation and daily tasks for better results
GET ACCESS
12-week plan v 2.0
STANDARD
RESULT – SLIM BODY
10 informative chapters on weight loss – unique and effective tips that helped me to lose 110 lbs
Diet plan
Interactive diary of success for extra inspiration
Motivational diary allowing to control weight loss and track progress
Free 7-day subscription plan with daily including daily dose of helpful motivation and daily tasks for better results
GET ACCESS
+ BONUSES

style course

special vegetarian menu